NICK GARBER
Pittsburgh Post-Gazette
August 7, 2019

FULL ARTICLE HERE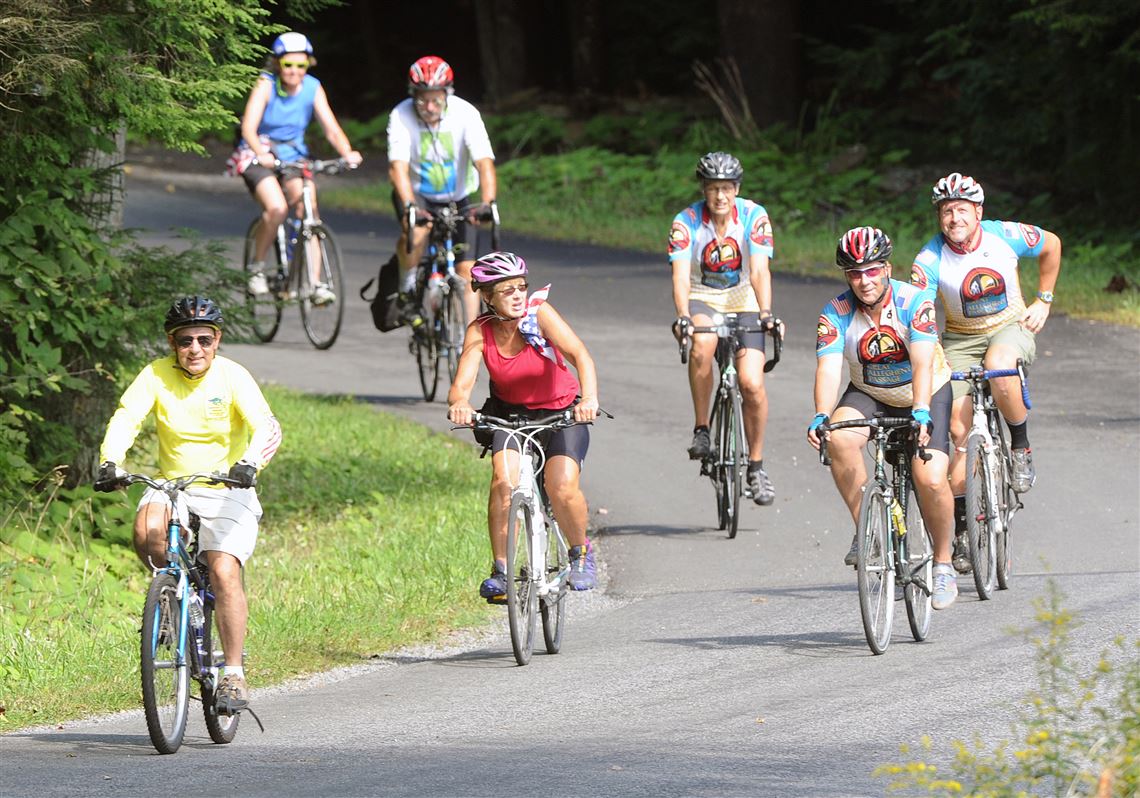 As a memorial trail linking the three sites of the Sept. 11th terrorist attacks takes shape in Western Pennsylvania, trail organizers will hold a 24-mile bike ride next month that they hope will attract much-needed attention and funding for the 1,300-mile, multistate trail.
The September 11th National Memorial Trail, which was conceived just days after the attacks in 2001, is now comprised of a mixture of roadways, existing trails and new trails that form a triangle among the National September 11 Memorial & Museum in New York, the Pentagon Memorial in Arlington, Va. and the Flight 93 National Memorial, 60 miles southeast of Pittsburgh near Shanksville, Pa.
The work is far from over: in the coming years, trail planners are working to make the route entirely off-road, a process that may take decades and significant amounts of funding.
To move that process along, the nonprofit September 11th Trail Alliance will hold its inaugural 911 Trail Challenge: a 24-mile bike ride on Saturday, Sept. 7, starting in Berlin, Somerset County, and winding through Shanksville to the Flight 93 Memorial in Stonycreek. The memorial, whose final major addition was completed in 2018, marks the crash site of a United Airlines jet that was likely bound for the U.S. Capitol before passengers managed to seize control from hijackers and steer the plane into a field.
Daniel MooreWith new trail, Flight 93 memorial a pilgrimage site for bicyclists
Trail alliance president Tom Baxter on Tuesday said the money raised through event registrants and sponsors will open up crucial government funding, much of which needs to be matched by private donors in order to be unlocked. That funding will help the organization achieve one of the biggest goals on its agenda: connecting the memorial trail to the Great Allegheny Passage in Somerset County.
"That's what this ride is all about — to connect those two [trails], and to generate the unencumbered matching dollars," said Mr. Baxter, who joined the trail alliance in 2017 after serving as executive director of Pittsburgh-based Friends of the Riverfront, where he helped develop the Three Rivers Heritage Trail.
Since that off-road linkage doesn't yet exist, much of the Sept. 7 ride will take place along roadways. But some will also take place within the Flight 93 Memorial grounds, on trails that are typically closed to the public.
"That's why a lot of people are really excited about this — they're going to have access to places that are not normally open," Mr. Baxter said.
As it stands today, 51% of the memorial trail is already off-road, Mr. Baxter said, and connecting with the 150-mile Great Allegheny Passage — a converted railway track that runs from Pittsburgh to Cumberland, Md., to connect with the C&O Towpath to Washington, D.C. — would significantly raise that percentage. About 30% of the seven-state trail is in Pennsylvania, and funds raised from the bike ride will go exclusively toward building new trail segments within the state.
There's reason to expect more progress in the near future. Mr. Baxter is optimistic about the passage of twin resolutions in the U.S. House and Senate that would recognize the memorial trail. The resolutions, currently pending in committees, are sponsored by Pennsylvania lawmakers including Republican Sen. Pat Toomey, and could pass by September.
While the resolutions are only symbolic, Mr. Baxter said the official recognition would give the project a major boost.
"Having federal recognition would not only showcase this trail as important to our nation, but also help us move forward with seeking additional support as we complete the alignment," he said.
Completing the trail will require cooperation from a wide range of private individuals and public officials, Mr. Baxter said, but it's a cause that seems capable of unifying them all.
"The September 11th National Trail does carry a good bit of prestige and heft with it," he said. "So we're moving along."
Riders can sign up online at 911trailchallenge.org — registrations cost $25 for individuals, $50 for families and $20 for students. Interested sponsors can contact the trail alliance at info@911trail.org. All funds and donations are being managed by the Community Foundation for the Alleghenies.
Nick Garber: ngarber@post-gazette.com.
First Published August 7, 2019, 8:00am